NEWS 2015
Press release April 15, 2015
Finn Olafsson at Musikmesse 2015, Frankfurt, presenting new "Video of the Month 2014" double DVD+CD set
In collaboration between Acoustic Music Records, Germany, and Olafssongs, Denmark, Danish composer and acoustic guitarist Finn Olafsson presents an outstanding new double DVD+CD set at Musikmesse 2015, Frankfurt, in Germany this week.

Meet Finn Olafsson on Friday 17th and Saturday 18th between 2 and 4 p.m. at the stand of Acoustic Music Records, Halle 3.1, Stand F 78.

The DVD/CD set primarily contains 12 'live in the studio' acoustic guitar videos written and performed by Finn Olafsson, in two of the videos being accompanied by Torsten Olafsson on tablas. In 7 of the 12 videos Finn Olafsson plays new guitar pieces that have not yet been published on any of his albums, while 5 pieces are known from his previous albums. 6 different guitar tunings are represented - and many acoustic guitar fans will find it quite exciting that Finn Olafsson in the videos is playing various gorgeous C.F. Martin, Kehlet and David W. Musselwhite guitars.

On DVD 1 you'll find the 12 videos in the "entertainment" versions which were published during 2014, month by month, on YouTube. DVD 1 also includes a 26 minutes portrait interview in two versions, one in Danish and another with English subtitles. In the portrait interview, Finn Olafsson tells about composing music, the inspiration, his life with music, the guitars he plays, how he kept spirits up after the death of his daughter Maria in August 2013 - and much more - mixed with clips of his music from the videos.


• Til toppen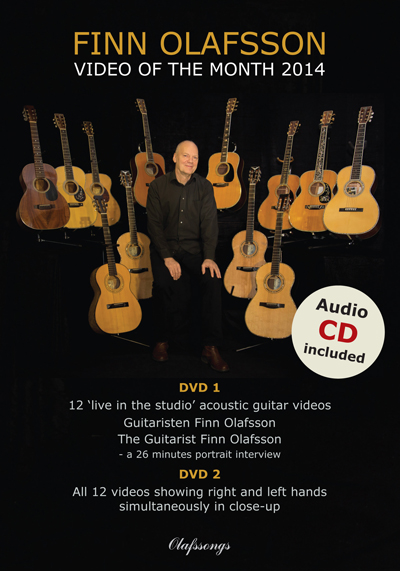 FINN OLAFSSON
"Video of the Month 2014"
Olafssongs ODBDVD 003 - 2015

Click to read more





Olafssongs
OCD 063 • 2015
• Back to the News Page
• Back to the main menu
New Finn Olafsson double DVD+CD set









On DVD 2 you'll find all the same acoustic guitar music pieces in "tutorial" versions. On this DVD Finn Olafsson's right and left hands are shown simultaneously in close-up - to make it much easier to see how to play the guitar pieces yourself.

On the included CD album, "The Audio Tracks", you'll find the very same 'live in the studio' audio tracks of all the 12 guitar pieces in 16-bit CD quality.

This double DVD+CD release will soon be followed up by sheet music/TABs of all 12 guitar music pieces that correspond precisely to the video versions.

On Finn Olafsson's website, finnolafsson.com, you can read Finn Olafsson's own words about the music, the guitars he is playing, the guitar tunings and some 'how to play it' advice for each of the music pieces from the videos.




Released in Germany on April 17, 2015, by Acoustic Music Records.

• To the top